Actual prices for professional editing services found on the Internet and fair, industry-standard prices may vary wildly. If you've been shopping around for an editor lately, you might be feeling a little bit lost—and justifiably so. One editor may offer her services for just fifty bucks to edit your entire manuscript, while another editor's prices could be as high as ten to twenty thousand dollars!
Okay, let's take a step back from these seemingly nonsensical—and often arbitrary—numbers and break it down in simple terms. How much editing do you need, and what's a fair price to pay for it? While there are dozens of editing methods and dozens more author requests, I'll focus here on the three main objectives of a professional book editor.
Manuscript evaluation – an evaluation, or "critique", of the entire manuscript. The editor's objective is to thoroughly read through the story and offer specific feedback relating to the story's content, flow, syntax, characters, and overall marketability. She may even offer ideas for improvement. The evaluation is often returned to the author in the form of a feedback letter with suggestions for moving forward.
Developmental editing – also called "content editing" or "heavy editing", developmental editing focuses on things like structure, plot, and character development. You know the story you want to tell; a good developmental editor will show you how to tell it well. What developmental editing does not focus on is grammar, spelling, and punctuation.
Copy editing – for the final edit, copy editors proofread the entire manuscript to correct grammar and spelling, check for factual consistency, and fix any formatting issues. Their attention is on the Five Cs: Is the manuscript clear, correct, concise, comprehensible, and consistent? In short, the copy edit is the final polish of your manuscript.
The Editorial Freelancers Association (EFA) is the undisputed leader in evaluating the market and determining fair, industry-standard prices for professional editing services. You can find the EFA's estimated costs for a manuscript evaluation, developmental editing and copy editing, in the chart below. Note that 1 ms page is equal to 250 words.
(Click on the chart for a larger view.)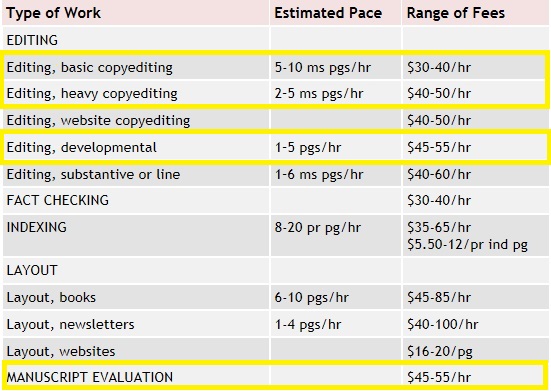 Remember that prices may be lower or higher depending on the editor's skill and experience.  Basic supply and demand may also affect the cost of professional editing services.
So what does this mean for you and your manuscript? I'd love to discuss the specific details with you, including the length of your manuscript, your publishing goals, and the level of editing your story requires. I'm always happy to offer a sample critique or edit of your manuscript as well, so we can "try" each other out and determine how to proceed.
Feel free to email me at michelle@mjbookeditor.com for any questions or further discussion.
Happy writing!
-MJ
"The writer must believe that what he is doing is the most important thing in the world. And he must hold to this illusion even when he knows it is not true." | John Steinbeck